Foaling Journal for I AM Ranch Miniature Horses
April 2018
Click here to see foaling journals from previous years
Name of Mares due in 2018

Name of Stallion

Last Date Bred

Previous Gestation Length

Due Date (based on 330 days)

Actual Date of Birth

Merrie Ribbons Wild Allegations

Buckeye WCF Grand Inferno

6/8/17
maiden
5/4/2018

5/17/18

Produced a filly at 342 days of gestation.

"I AM Infernally Grateful"

I AM Storming the Pearly Gates

Desert Shadows Free Spirit

6/14/17
previous 330 and 325

days

5/10/14
4/27/18

Produced a filly at 317 days of gestation.

"I AM Stormin at Ten"

LDS Secreat DandyLion

7/24/17

322 days

6/11/2018 based on 322
6/22/18

333 days of gestation

I AM Infernally Exotic! Moose is a gorgeous colt with a dreamy hind end!

Westwind Farms Derby Day by Revenge

Buckeye WCF Grand Inferno

8/23/17

previous gestations of 330 and 322 days

7/19/2018
7/18/18

I AM Infernally Justified! Justify has a face to die for! Gestation length of 329 days.
March 20, 2010 Sprinkles bag starts blowing up. Seems too early for me so I start treating her for placentitis.
4/25/18 Sprinkles has a HUGE bag at this point, but calcium and pH are testing as "not ready." I am forever thankful for the milk strips, for they allow me to sleep in peace. Allie is due first, and she has a tiny bag forming. Both mares are vaccinated and ready!
Due to the heat that is here and that will be here when Dandy and Derby foal, we just bought some big swamp coolers for our foaling area.
Evening report!!! The hardness strips are all changing and saying that SPRINKLES is ready.....BUT, her pH is still too high. This makes me think that we might meet baby tomorrow night or the next day.
4/27/18 All day yesterday, we watched Sprinkles! She is uncomfortable, rubbing her tail and looking quite ready. Her calcium says "ready", but her pH has been just slightly high (lemon lime color). This morning, it is still slightly high, but her milk has really changed consistency and I believe we will meet baby in the dark tonight. Sweet Nichole slept her last night anticipating a birth, and will be back tonight.
Allie is definitely filling up, but her pH is very high still.
Exciting things happening here?? Hubby is helping me install misters around the entire arena for the summer! We just bought a powerful FogCo pump! He is very good to help us be more comfortable in the heat. We also are putting evaporative cooling in the mare stalls!
Around 11 AM, I checked Sprinkles pH and it has finally dropped. We should meet baby within 24 hours! Stay tuned and pray!
Around 5 PM, every poop in her stall is a cowpie!
She arrived before midnight! Looks like daddy! A dun! Click here to see the video
5/16/18 Up until today, Allie's bag was full, but not huge and very little milk could be expressed. When we brought her in from pasture today, her milk had come in and her bag was very full. Her calcium is testing as ready, but her pH is a high. We are anticipating her going into labor within 48 hours. She is a maiden mare and bred to WCF Buckeye Grand Inferno. This is a highly anticipated baby! Please, please pray for this delivery.
5/ 17/18 Thank you for those prayers!!! Allie did have her filly, and right in the middle of the day! Beautiful little red dun girl named "I AM Infernally Grateful." The birth was textbook and easy. But, the unexpected happened when Gracie decided to not nurse. It was going on 4 hours and she hadn't latched on. She was trying and not acting like a dummy foal. We were nursing mom out and adding Karo syrup for added energy. But, it was the middle of the day and hot, so the fear of dehydration on such a new little body was heavy on my mind. We ended up packing up Allie and taking her to Chaparral. They inserted a feeding tube. She weighed a whole 20 lbs! Every 2 hours, we milked out Allie and fed baby at least 120 cc of milk. They said we could feed up to 150 cc of milk. We set alarms to get up all night and at the 3 AM feeding, she was latching on by herself. I removed the feeding tube and haven't looked back. Thank you for your prayers. I am infernally grateful!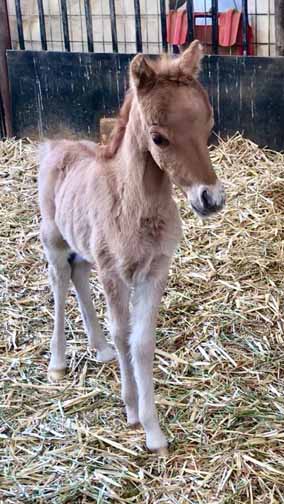 5/23/18 Next up is Dandy. She is bagging up and progressing rather quicky. If she follows her previous 2 gestations, she will have this baby on June 11. That is almost 3 weeks away. I don't think she is going to wait that long.
Muff came to see baby today. She is the breeder and previous owner of Allie. She was in love!
Click here to see the birth
6/4/18 Dandy is next up. Both her and Derby are developing bags. Due to our extreme heat, we now have coolers in the barn! Dandy's pH is high, but we did put the foaling halter on. Cannot wait to see this baby!
6/9/18 Dandy's bag has been full and very steady without much growth, until last night. Her bag got much fuller! pH is still testing high though, so not anticipating a baby yet.
6/14/18 Dandy's bag continues to grow. It has gotten rock hard and her calcium is testing ready. Her pH is still slightly high and is reading a light green color
6/21/18 Her calcium continues to be at the correct level for foaling, and her her pH varies. In the AM, it read correctly for foaling, but by evening, it was back to being too high. We go to bed, but are on alert.
6/22/18 Just after midnight, the foaling beepers go off and we all run to the barn. I am slowed down by waking everyone up, but Jess and Anna make it to welcome a leggy black colt into the world. In years past, I don't know if I had the skill level and the eye to see it, but this colt has an incredible back end. Just amazing!!! So pleased and grateful to Julie Ward of Hidden Hickories farm who owns the sire! See video here!
6/27/18 Derby is at 308 days, has a growing bag, but not ready at all.
7/4/18 Derby is at 315 days. She is uncomfortable at night, under camera with a foaling halter on. We are checking her milk and neither pH or calcium levels are close to ready at all. Her udder is large, but not huge. I bathed her and rebraided tail and mane today. Had to take about 20" off of that tail! Beautiful girl!
7/16/18 Derby's bag is remarkably bigger....if that was possible! Baby also has dropped lower in her belly.
7/17/18 Again, the changes in Derby's bag make me test her Calcium levels despite her pH reading too high for foaling. Only 2 squares changed instead of the needed four!
7/18/18
Woke up this morning feeling refreshed for the beepers didn't go off at all during the night. Spent some time in the kitchen and could see through the windows that Jess was already working a horse. I hurried back to change clothes in my bedroom and glanced at the monitor. Derby was down and there was a white sack behind her!! Why hadn't the beepers gone off ran through my mind as I started screaming for Anna while running for the barn. The fear that baby had suffocated in the sack gave my running legs a burst of adrenaline and you would've thought I was 20 years old again. Anna was right behind me. We burst into the stall causing Derby to stand up, and as she did so, that deadly sack pulled off his nose. He was alive and moving!!!! Soooo thankful! We must have just missed it, because there are no signs of oxygen deprivation. I found out the cord for the pager had accidentally been unplugged. Again, so thankful for His mercy on us! I see His mercy so many times in my life. God delights to share His mercy with us. Romans says "...all have sinned and fall short of the glory of God, and are justified freely by his grace through the redemption that came by Christ Jesus." This was his first act of mercy in my life. Saving me despite what a screw up I am. He illustrated this story this morning.....He saved this baby despite our screw up! Meet "Justify" or "I AM Infernally Justified."