Home
Without planning it, we ended up with a Frame Overo Stallion. Captivated by the striking color patterns of a Frame Overo, we began to ask more questions of other breeders. We are delighted for we want color to be a part of our breeding program second behind conformation.

There are 3 color patterns that fall under the category of "Overo": Frame, Splashed White and Sabino. Many sites out there describe what the typical coat looks like if your horse is carrying any of these genes. But "typical" does not seem to be the norm.

One of the best sites to read more about color is www.equinecolor.com
A typical Frame Overo coat is to give the onlooker the appearance of color being framed. But, our Frame, and not all Frames, look like that. Countless other horses ,that are frames, do not have color patterns as such, and some are just about completely solid. However, these solid-looking horses have thrown many a wild-colored baby.

Look at Rowdy to the right; he is almost a solid (you can't see, but his face has a white blaze) and he is a well-known frame carrier.

Any horse that is Frame will always be heterozygous for this gene. This gene in the homozygous condition produces the Lethal White condition whereby the horse dies within a few days.

I have filled in as much of Rowdy's pedigree as I can. On any of my pedigrees, please email if you find mistakes or can help fill them in.

Above is the immortal Rowdy who has many Frame babies in his descendants.

Rowdy 33" Bay with white on face

Producer of many frame overos

Sire
Kewpies Sun

Sire
Kewpies's Doll Oracle (Shetland)

Sire

Hillswick Oracle

Blue Roan

Silver Crescent II

Bonny Bride

DamStreamliners Kewpie Doll


Streamliner*

Laura S

Dam
Toppers Larigo Starlight

Sire
Larigos Topper

Silver Crescent II

Bonny Bride

Dam
Larigos 2nds Starlight

Streamliner*

Laura S

Dam:

Alman's Baby Doll

(Hackney pony)

Sire


Sire


Dam


Dam


Sire


Dam

Oh Cisco. Found in many of the Frames at Dreammaker Minis. It is suspected that the Oh Cisco lines were from the Sample lines historically.

All Miniature horses carrying a frame overo gene will trace back to a small handful of foundation horses in their bloodlines. The four named Frame foundation bloodlines were: Oh Cisco, Rowdy, Van Lo (Sample), and Bar L lines.

Many of the Dna'd Frames in Miniature Horse history can trace

trace their ancestry back to one of these lines of Frames. And, the resulting assumption is that if you traced these horses back far enough in history, there is a common ancestor.
I had been told originally that Shredder was a foundation for the Frame gene in Miniature horses, but after talking to Lisa Davis of LTD Minis, she convinced me that the Frame gene came from Samples Wendy Blue Eyed and Shredder did not carry it. Shredder was repeatedly bred with Frames and never had a Lethal White baby and Wendy had many an overo foal. Wendy was the product of intense line breeding (read more by clicking here). Lisa Davis would definitely be the one to know where her LTD Magic Man got his coloration.
So, is Frame dominant or recessive? How does it transmit through generations? It is an unpredictable gene. All horse colors are a simple dominant gene, excepting red which is simple recessive. Frame is different; it involves "penetrants" which can allow a breeder to breed to solids and get a loud frame or breed 2 loud paints and get a solid colored horse. Look at the 2 parents above. They produced one of the loudest, prettiest frames out there. Their son is pictured below. He is LTD Magic Man. Read more about him by clicking here.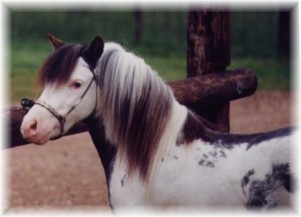 The frame pattern gets confused when a horse has multiple overo genes or even a tobiano gene in addition to the frame. There are 3 Overo patterns: Frame, Splashed White and Sabino. Our Ravenwood Blue Boy Dreamin has a Frame gene and the Tobiano gene. I have not tested him for Splashed White or for Sabino. We did test him for Frame, Tobiano and for his black base. Click here to see the results.

The experts in this field can often look at a horse and guess the genotype. They use markers like a white stripe on a black hoof of color on the lip.

You can not tell if a horse is Frame by looking at it. You can get clues by the bloodlines, but you can only be sure by dna testing.
All Frame Overo horses carry the LWO gene. These genes are one and the same gene. If a Frame is bred to another Frame horse, there is a 25% chance of having a dead white foal. I will not knowingly breed a Frame to a Frame because of the heartache involved with a lethal white foal to both my family and to the mare. There is no such thing as a frame overo that does not carry the LWO gene.
This is the story about the Sample herd as was copied to me by Dru of Dreamkaer Miniatures. It tells why Sample is considered a Van Lo horse:
This story was told by Mrs. Lois Myler, wife of the late Vance Myler both of Van Lo's Rainbow Ranch. Vance Myler passed away in 1994 and on my visit to Van Lo's it was noticed that "Sample" appeared to be in a state of mourning. He had dropped in weight and his attitude was one of depression. After what appeared to be a period of a couple years the Old Man Sample, well into his 30's miraculously came out of his depression and by 1997 his weight had returned and he was seen running through the Van Lo pasture once again.
As the story goes Vance was at Art Kaltveldt's home one day in Eastherville, Ia. when he spotted what he knew to be a most unusual marked little foal. Art was known for dealing with buying and auctioning ponies so the real background is lost but it is known that the sire and dam that Vance saw was then known as Judy a solid sorrel and Cocoa, a chocolate bald face stallion with two socks. Vance took the little guy home and raised him to be a beautiful, lively high two stepping pony who was identified by his apron face, bonnet, shield and dark hair down his back. Sample was what we know of today as a complete patterned "Frame Overo". At the time both Vance and Lois lived about 90 miles from the Dakotas in a town called Spirit Lake, Ia. about 12 miles from Art.
Sample was soon spotted by another one of Vance's buddies and he offered to allow Vance pasture space over the winter if Vance would only allow him to keep Sample in with his two mares a buckskin and a black named Black Apache. The following spring two frame overo fillies were born. Black Apache's filly was named Tadita and the other mares filly died fairly young. Vance brought home Sample and his first daughters were by Silverdale's Dainty Denise known as Gypsy a black, Nipsy a black and Scarlet a bay. Another daughter was Nacona.
Vance also ended up back at Art's to bring home Tadita as she had foundered badly and Vance doctored her back to health by putting in hours of work and soaking Tadita's hooves in old oil. As we can see today Tadita has had many beautiful overo foals into her upper years. One such son was the famous LTD's Two Tone Trigger formerly owned and raised by Randy Weiner.
Sample was bred to an own daughter to get Sandy, and Sandy was bred back to Sample again to get Wendy. Wendy crossed to Shredder produced Magic Man. Sandy was quite white with black flank spots, medicine hat and died at Margie Miller's. Margie Miller at one point bought out some of the Myler mares in exchange for "Fame". So Fame came home to the Myler's once again. Fame was one of the loudest AMHA frames out of a Sample bred daughter. Fame was registered with AMHA at the last hour of its open Registry by Margie Miller and her frame son was bred to many of the Millers AMHA cross registered mares.
A couple of other men who owned horses from the Van Lo herd were Gary Graham and Randy Weiner. When 18 of the Shelley Friesen herd, originally purchased from Van Lo's were sold it was the two men who alternately bought the horses splitting the herd in two. In this group was Sample bred Gypsy, Funny Face, Nipsy, Scarlet, Angel, Judy and a Sample and Scarlet filly named Senorita, as well as several fillies and colts by Sample and Shorty. Also in the purchase was Dainty Denise used extensively in the Van Lo program. All of the Sample AMHR horses were placed in the Registry when it was opened.
A breeder purchased the following Van Lo horses from Margie Miller of Sedalia, Mo. The white Wendy, Sandy, Concha, Sue Ellen and Elvira with coloring as follows:
Wendy (see above picture), totally white except for a black pigmentation on her head Sandy, a reddish with flank florets, med. Hat, a lot of base white and cap was black. Sue Ellen, was a black and white pinto Elvira, was a bay roan Concha, was similar to Sandy but black florets, cap etc.
Rolling Green Red Crescent King was used as a back-up and was not used for the AMHR stock. The original classic breeding stock was Star Attraction and two hackney mares, Misty and Bobbie purchased from Bob Jones.
There is a large scrapbook of Vance's life in pictures and education with memories at the website: htttp://www.millersequine.com