Home Articles Contact us Labrador Retrievers Miniature Horses For Sale
America's Favorite Dog! The Labrador Retriever!
(Deposits are non refundable, but transferable to a future litter.)
623 694 9431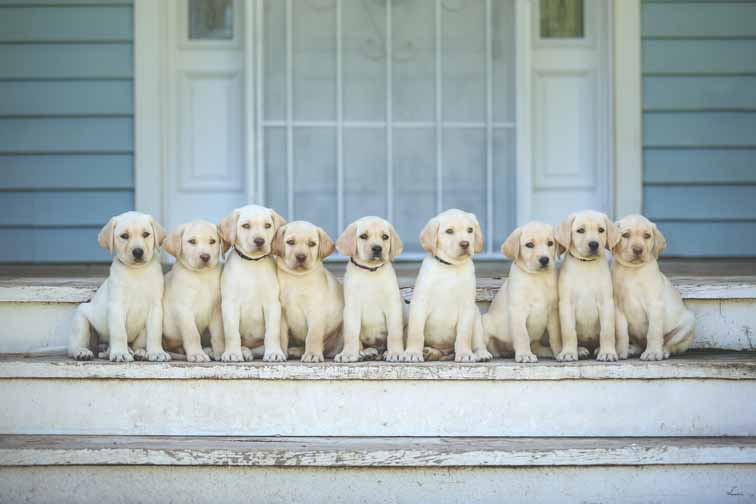 All of our puppies are sold on a Limited AKC Registration
We are small hobby breeders that love our Labs and our privileged to own an excellent line of Labradors. We strive to produce the dog that America fell in love with; one that is not hyper, but an ideal companion dog, eager to learn and is at home in the hunting field as in the back yard.

Our goal is for the original intent for the breed, the all versatile dog. Thus, we do not only breed from English lines, nor solely from American lines. Our puppies have the American stamina and athleticism, with some of the English build for better strength and bone substance. Our goal is also to provide you with a family companion and/or hunting dog that will be with your for a dog's lifetime. Thus, we do the preliminary genetic testing, x-rays, bloodwork, etc i to do what we can to provide this. Look at our dogs below and you will see good bone size and strength. You will also see that they are long legged .

We can see why the Labrador Retriever has been voted the Most Popular breed in America. Labs have held that title with AKC since 1991 with Yorkshire Terriers in second place. In 2008, there were 100,736 Labradors registered with AKC compared to the next in line, 41,914 Yorkshire Terriers. Labradors are known to love children as much as they love being out in field playing in water and mud. They are eager learners and score high in obedience trials.

We have dogs here representing 5 generations of our bloodlines.

Dockers and Clem are due in November 2018!!! They should have Chocolate and Black puppies. Accepting deposits now!

Clementine is pictured here with Winston at 5 months. Clementine's sire is Phoenix who has been the top dog at Richochet Labradors for years. Clem is a daughter of Annie (see below row) and is a quiet, petite girl. Winston is huge and my "monster." He looks like one of my miniature horses when I glance down the pasture and see him running in the grass.

I AM Clementine

I

Dockers!!

His first puppies will be available around January 1, 2019. Taking deposits now.

I call Doc our "football player" or "bear" due to his incredible size. You just have to meet him in person to get a feeling of the size of his bones and his neck. He is one big thick boy. His mother was an English girl who gave him her big blocky head. His sire is a mix of English and American bloodlines. His sire is Magnum whom we have used to sire many litters. As Magnum ages, I do not want to lose his bloodline, so I bought one of his puppies from a momma dog that is unrelated to my lines. Doc is clear due to parentage testing for EIC, CNM, PRA (eyes), and DM (Degenerative Myelopathy).

I AM Doc Holliday

Currently has a litter of beautiful Black pups

Selah was one of our puppies that I kept from Annie and Tank. As you might be noticing, all of my females are related in line and this makes it so I have a good feel as far as temperaments. Selah is out of Annie, who is out of Dandy, who is out of Goldie, who is out of Chester, who is out of Nina. Nina was our first lab! Here is link to the litter that Selah was from.

I AM Selah

I can guarantee that our puppies are free from CNM and EIC. These are 2 debilitating conditions being found in Labrador Retrievers. Our dogs have been tested and none of our puppies will be affected.
Home Articles Contact us Labrador Retrievers Miniature Horses
The reason a dog has so many friends is that he wags his tail instead of his tongue.

-Anonymous