Home Articles For Sale Mares Stallions Our Dogs Contact us
Pearl of Classic View
AMHA and AMHR DOB 2000 32.5"
sold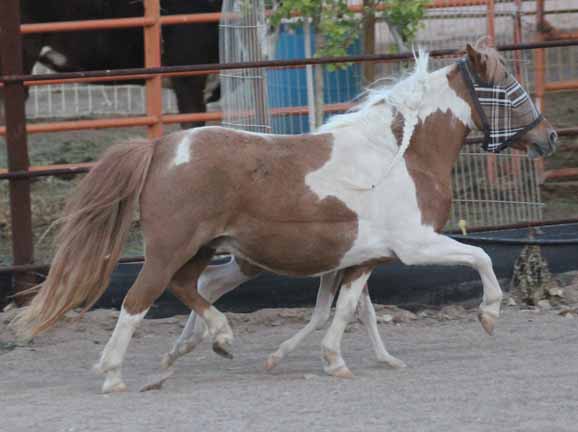 We bought Pearl when she was in foal to Silver Meadows Phantom Storm. He does not need much introduction due to his winning World and National Single Pleasure Champion for the last 5 years. Storm and Pearl produced a filly in April 2012 and she is named I AM Storming the Pearly Gates.
Pearl produced a beauty in 2012 (we are keeping her!) Pearl has a very sweet head, and an awesome shape to her neck. She does have a slightly fallen crest and I suspect this was caused by the obese condition she was in when I bought her. I hesitate to mention this because it is not "fallen" like I have seen in other miniatures. Nevertheless, her neck is 'archy' and hooks naturally. She also has hocks that reach way under her and extend over the front foot step. I like powerful rear ends and she has it. Pearl is not broke to cart.
And, here is Pearl herself in all her broodmare glory :)
Here is a listing of the other babies that Pearl has produced. Her 2011 colt is not in the studbook yet.
Click here for video of her 2011 colt.
Click here for video of her 2012 filly (I AM Stormin the Pearly Gates)
Pearl of Classic View

hardshipped in 2005

31"

RJS Little Willie 31.25"
Crescents Rodney Joe

29.5"

Crescents Sparkey

29.25"

Double O Seven and a Half Moto 29"
Crescents Bonnie Blue

32.5"

Chocolate Baby

32"

unknown
unknown
Big D Julee
Hobby Horses Prince Charming 29"
Little Englands Lord Malvolio 30"
Little Englands Lady Jessica 34"
Big Ds Little Rambler
Dorsas Silver Moon 31.25
Loracres Penelope 32"
unknown
unknown
unknown
unknown
unknown
unknown
unknown
unknown
unknown
unknown
unknown
unknown
unknown
unknown
unknown