Foaling Journal for I AM Ranch Miniature Horses
December 2013
| | | | | | |
| --- | --- | --- | --- | --- | --- |
| Name of Mare | Name of Stallion | Last Date Bred | Previous Gestation Length | Due Date based on Previous Gestation | Actual Date of Birth |
| | | 2/3/2013 | unknown | 1/4/2014 | 12/26/2013 gestation was 326 days |
Rhythm is a very scary mare for us to be watching. We have lost the babies in her 2 previous pregnancies. She has produced in the past and we own one of her daughters, Candy. Rhythm's last baby was delivered dead and we were shocked. She was almost full term....about day 315 gestation, and we could hardly believe it when it was dead. We do have a videotape of this birth, but it is so sad for me to watch it. We are very lighthearted during the birth until we realize it is dead. Horrified!! Here is that video. You will see the placenta come out right after the baby, and my hunch is that the baby had died a day before the birth or maybe he suffocated....but it was not a red bag. I would love if anyone watching this can tell me more. Rhythm is a daughter of Rhotens Little Dandy. She is a strong mover, country pleasure, but powerful in movement.
Dec 9, 2013 Rhythm was put on camera last night due to lots of change in behavior. She suddenly started acting like a stallion. Turning her lip up, grunting, mounting mares, etc....were all behaviors that we saw. She also had multiple loose poops and was holding her tail straight out. So, in the barn and under cameras she went! I also put the foaling halter on her. Last night was uneventful. Her bag is not big enough for me to say she is ready though. We did add Regumate, SMZs and some Banamine to her just in case it is placentitis.
Dec 10, 2013 Today, I am second guessing myself and thinking I way over reacted by thinking placentitis. From what I know, placentitis can come on slowly or there can be an acute onset. Typically, they bag up early. Rhythm is not bagged up. She was acting like her hormones were really messing with her.
Dec 13 She progressed a lot in one day!
Dec 14 Her vulva has relaxed. This mare is changing fast.
Dec 16 Her vulva is relaxing, but her pH is still at 6.8 We don't expect to see baby yet with that high of a pH, but we are all still on guard. Our friends, who help us with even foaling, are camping in the Living room for the first time during this episode of mare stare. Jess wants to start getting the feel of miniwifery, so I think she will be the one to help Rhythm. I am sure there will be at least 3 coaches present. Her bag is softening and one more "sign of foaling" is achieved, that being the teats pointing straight downward. As you can see in the above pictures, they were pointing in... here is tonight.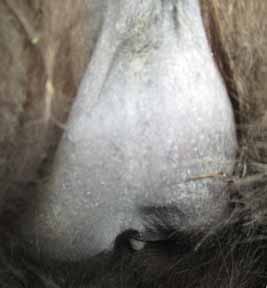 Oh boy, I just reread some of our previous foaling notes. I remember that Justine's bag got this funny little dent in it that feels like a shelf. So back I go into my notes about her foaling. After this happened with Justine, it was still another 13 days till the foal appeared. If Rhythm waits that long, she will have the baby just about on my original due date....but will I still be sane? I get way over vigilant during this process....every single time.
Dec 16, 2013 We are watching her closely because everything looks ready.....except the pH on the milk is staying at 6.8
Dec. 21 We saw hints of change in her milk today; there is a wee bit of yellow coloration on the pH strips. This indicates a slight drop. If you have never seen a mini born, there is a page on our site of many miniature horse births. Click here.
Dec 23 Jess says the mare is changing. Her pH has dropped below the 6.8. Her vulva is very loose and there are many small piles of cow pie poops in her stall. We used to have problems getting a milk sample and now we can easily get a big drop to test. Here she is saying Hello to her daughter, Candy.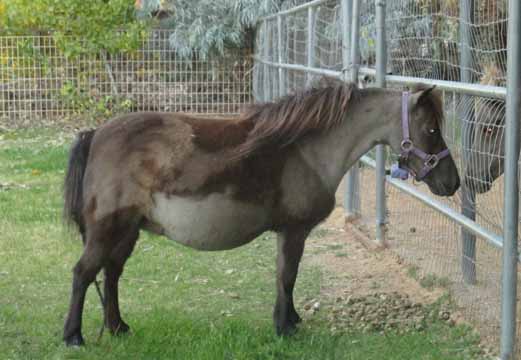 Dec 24 Merry Christmas Eve!! Rhythm's bag changed a lot today. We are able to get milk and test her calcium. All 4 squares changed within 30 seconds, so I suspect we will meet baby within the next 24 hours. We could not go caroling with our church family as we have on other Christmas eves, but we sang praises to the One who humbled himself and dwelt among us. Thank you Jesus and Happy Birthday!!