Welcome March!!! March 1 has arrived. We are one week away from a one year gestation on Morning. The neighbors who want so badly to see this baby born left around 6 AM. The nature of foaling is such that one can miss it unless they are are here almost full time. They missed Magic and Lily each by only about 5 minutes.

So, I see Jessie go by my bedroom window early this morning with tousled hair and swollen eyes. "Where are you off to?" "Have you eaten breakfast?" I yell at her. While holding up a collection cup, she mumbles that she is on her way to check Morning. I wonder how many other 13 year olds make this their focus!?!? She finds the bag hard again up on top and massages and massages. By doing this, some milk drops down into the teats. We are able to test. The squares all change and test that baby will be here within 24-48 hours.

Remember that the mare's eggs can "float" for up to 2 weeks before it implants in the uterine lining. I know Morning and Warrior bred on March 8, 2009. She only accepted him one day. She is at 357 days today! Click here to see her milk strips change.

I will fill in the story tomorrow, but God was merciful and gave us a beautiful little colt. He arrived just after 7PM!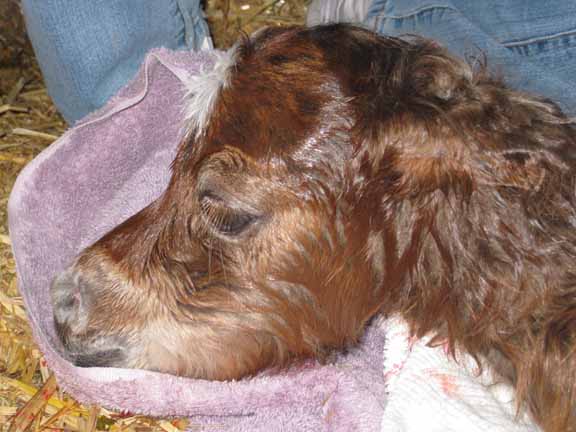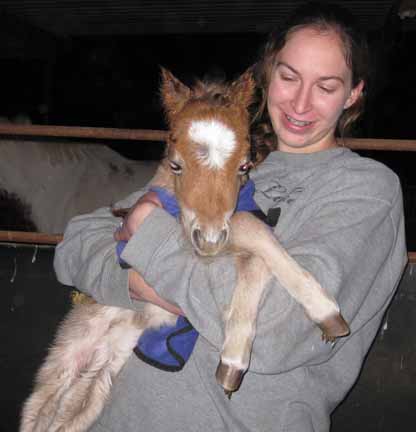 March 3 Here is the video of the birth...click here to see it. Baby is doing great!
March 9, 2010 Click here to see baby being dried off.
Our next baby is quite a ways off.....not until June. We are vicariously watching Jewel of Chey Aut Ranch on marestare http://www.marestare.com/fcam.php?alias=cheyaut Previously she lived here and had a terrible dystocia. But, the result was a colt named Finale, born here in May of 2008 (click here for journal) (Click here for birth details). Yes, she was cultured, flushed and recovered afterwards. Her new owner is very experienced and should do fine. Pray for them, please. You can keep up with her notes about Jewel at this link http://latigo.marestare.com/forum/index.php?topic=20831.15 Update: Jewel easily foaled out a filly!
Click here to see baby running around at one week of age!
Click here to go to Flame's page!
Click here to go back to February 2010 foaling journal.
Click here to go back to January 2010 foaling journal.
Miniature Horse Foaling/Nursery Journal of 2008!
February 2008 Includes our pre-foaling preparations
March 2008 Includes the foaling by Lucky Four Real Doll
April 2008 Includes the birth by Magic, Lily, Morning and.....(Read about 2 mares foaling the same night!)
May 2008 Includes the birth by Jewel (Dystocia)
Miniature Horse Foaling/Nursery Journal of 2009!
May 2009 Foaling by LK Supreme Dream mare!
June 2009 Foaling by Orion Light Vant Huttensest daughter (dystocia)
Entry page About us Articles Contact us For Sale Mares Stallions Our Dogs