Home Articles Contact us Labrador Retrievers Papillons Miniature Horses
Painted Sun's Gift of Gold
Expecting pups in May 2015. She has been bred to Magnum. For those of you who have been waiting for a Goldie pup, this will be her last litter.
Click here to meet Goldie's 2014 litter
Click here to see how tolerant our Labs are!! This darling Lab is almost one year old and is a granddaughter of Goldie's . I LOVE the sweet nature bred into our Labradors!
In Goldie's lines exist a heritage of dogs that have proven to have good hips and elbows. OFA rated Goldie's mom, her half brother and Goldie herself. Goldie was awarded a good on hips, and this was after she had had one litter and was in heat for this current litter.

To be certain that our Labs are of good breeding quality, we "CERF" their eyes to check for any possible genetic problems.

Click here to see a video of how much Goldie loves children!

Click here to see Goldie's pedigree The OFA certificates are attached below.
Goldie is our puppy and the granddaughter of Nina. I believe we can predict more clearly the temperament and appearance of our puppies by having kept descendants of our own lines. Currently, we have 5 generations of Labs represented in our 4 females.

to watch a video of her playing in our back yard. Here are some of her puppy pictures!
Read more about health concerns in Labrador Retrievers by clicking here. She has also been tested for CNM and EIC and I guarantee that the puppies cannot be affected by either of these debilitating conditions.
Our labs are naturally attentive to their owners!
| | |
| --- | --- |
| | Goldie is gentle and loves all little ones!!! |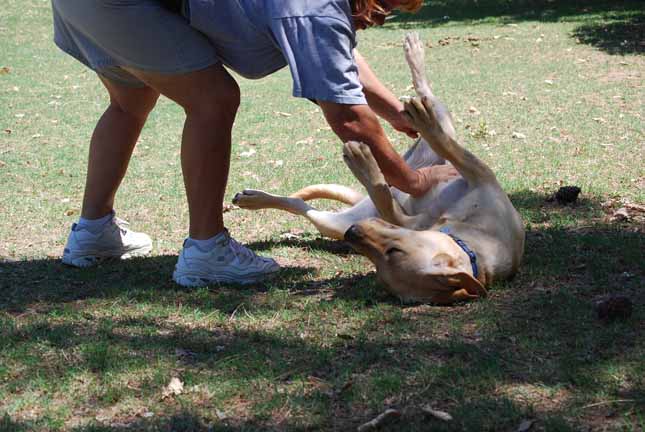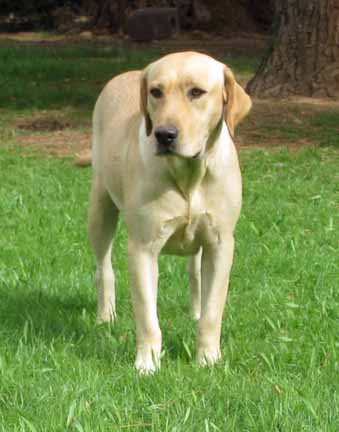 We had Goldie with us from puppyhood!

Our friend, Leigh Anne looks like she and Goldie could snuggle all day. Goldie agreed with that, but what you can't tell in this picture is that Goldie is one heavy puppy at 9 weeks of age. Goldie feels like she could hang out in these arms all day, but Leigh Anne's arms and eyes tell us a different story. This is one heavy load to hold up!

Click here to meet Goldies's early 2013 litter

Click here to meet Goldie's 2012 puppies
Home Articles Contact us Labrador Retrievers Papillons Miniature Horses