October 24, 2011 My barn cameras have been very uncooperative this season. The night vision was not working and the interference was so great, I could not see....especially at 2 AM when my I am awakened by the beeper and my glasses are not on easy to find. After cleaning every connection and even inside the case of the hard drive, I finally broke down and called Swann hoping to get some tech support geek that was understandable. Yes, my geek spoke with an accent and was probably located on some other continent, but he did it. I needed a new power supply. Over the years, the power supply got weak and that was the culprit! Tonight, my cameras are clear and the night vision works once again.
Missy is looking quite big and pregnant, but not a hint of a bag yet. We are around 317 days. I am getting close to mare stare hibernation. My only disappointment is the Lew Sterrett clinic that will be at Buckeye Equestrian Center on Nov. 4. I don't want to miss, but I am probably not going to be willing to leave Missy very soon.

October 30, 2011 Day 323 of gestation! We now have someone home at all times with Missy. Still no bag and still no other signs of imminent foaling, no drop in the belly or other changes. But, she is such a small barreled mare normally, that she may not look as other mares do when her day comes. We have been walking her a little over a mile a few times per week. Good for her and good for us! The horses are all off our pastures while the winter grass comes in. Our front yard's grass is in, but it is off bounds due to a wedding taking place in it in mid November. I really want the grass perfect for the wedding pictures. After the wedding, the minis will be so glad to rough up that grass.
I am noticing some relaxing of the muscles around her hind end, but not huge changes like we see in other mares. But, Missy is a maiden and she is a muscled horse. The changes will not be as dramatic as in other mares.
October 31, 2011 Happy Reformation Day. What does that mean? Everyone else is saying "Happy Halloween." It goes all the way back to Oct 31, 1517 when Martin Luther hammered his 95 theses into the church door. He was excited to read in the Bible that mankind could be found acceptable before a perfect and holy God through faith in Christ and that our worth was not based on our good deeds. Up until this time, the church had been teaching one had to do many religious deeds and good works to get to heaven. Due to the Gutenberg Press distributing Luther's theses all over Germany, the new resounding cry of "Through faith alone in Christ alone" was heard throughout Europe and the Protestant Reformation was begun. Reformers were killed as they spread the biblical message of "For by grace you have been saved through faith, and that not of yourselves; it is the gift of God, not of works, lest anyone should boast" (Ephesians 2:8-9). But, as Reformers died an earthly death, many were saved eternally by coming to Christ in faith. Many other issues were brought up by Luther and he struggled to stay alive after his posting. We like to remember Luther's message on this anniversary date of his posting.
In her non pregnant state, Missy is so, so small barreled. She does not look as big as other pregnant mares, but if you think of her in her normal state, she is huge. Here she is non pregnant, and then some shots from today. Look also at our Arizona winter grass!!
Click here to see video of how beautiful this girl bridles!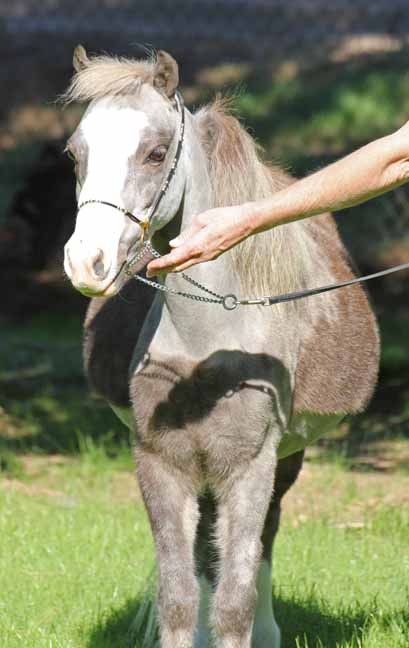 November 4, 2011 There is the ever so small start of a bag on Missy! Her rear end is very relaxed. Lew Sterrett's presentation is tonight at Buckeye Equestrian Center. Even if it rains, the show will go on under the covered arena. Take a chair and a blanket and let God speak through him to you. He is a very gifted man!
November 5, 2011 She is bagging up quickly!! YAY! Changes in the udder are very significant in predicting the arrival of baby. I couldn't sleep last night, just too excited to meet baby. I tried sleeping and found it hard to stop watching the cameras on the TV in my bedroom. So much rides on the correct functioning of the Equipage beeper system.
She is biting at her sides, even today in the daylight. Also, the tail is being held out and lots of pooping. In the daytime, the pre-foaling behavior decreases usually until nightfall. Of course, I am thinking we are getting close, but this could go on for a while. If we could get milk from her, I could be more accurate, but so far, no milk. Or, if she was not a maiden, I would have more clues. As it is, we will wait and we will not leave her alone at all, till baby shows us his face :)
The turn out at Lew Sterrett was good despite a VERY stormy evening in Arizona. About 350 people showed. We had the hone of hosting one of his staff and were blessed by her conversation today!
There is a driving show for all sizes of horses in the west valley next weekend. Click here to read more about it. I doubt we will be there with our Missy on mare stare, but this looks like loads of fun to do with any size of horse. I have also heard rumor of a AMHA performance show in December up in New River.
November 6, 2011 Missy got walked today again. Tonight, her bag was just a bit bigger and is softer.
Lisa and I worked 11 horses between the 2 of us. Jess worked one when she came home from church.
Then, we called it quits in order to paint the front garden fence. I am still trying to prepare my front yard for the wedding in 2 weeks. The porch has been repainted finally! Thankfully, another family helped us and stayed for dinner. As we sat around reading aloud a chapter from Randy Alcorn's book, Heaven, Missy's beeper started sounding off. Up we all jumped and sprinted back to my TVs projecting the image from the camera in Missy's stall. I knew I had knocked my toe, and I felt pain, but I dashed back with the best of them. OK, admittedly, I was the last into the room, and I was moaning loudly. We could see that Missy was not in labor, but my pains were almost as great. Upon examination, we found that my toe was pointing at a 90 degree angle to my other toes. It is broken! What a klutz am I! Now, watch me dash to the barn with a broken toe!
November 7, 2011 It is my dad's birthday. Wouldn't that be a great day for her to foal??? Here is how her bag has changed from 1 PM to 5 PM. She is filling quickly!!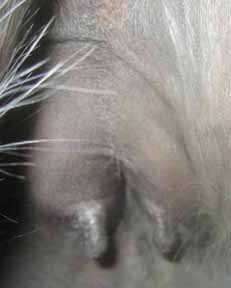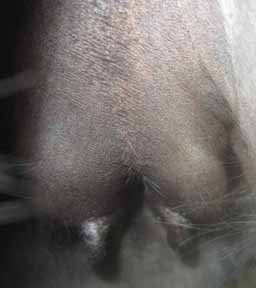 And, there was a cow pie poop!!! We are seemingly close. Still can't get any milk to test though.
November 10, 2011 11:50 PM Her bag fills more and more every day....but no milk. She is restless, but Missy is a sensitive mare and who knows if she is really close or just expressive. She sure has gotten used to us messing with her. Our exams used to be met with the warning of a lifted leg, but no more threatening kicks....she just accepts our exam. Initially, I guessed 11/12 and we are getting there quickly. As I type, she bites her side, stamps her feet, kicks at her belly and swishes the tail. And, she always drinks out of the neighboring mare's water. Missy has 2 sources of water in her own stall, but she thinks the neighbor's tastes better.
I sat in her stall tonight for a long time snuggling a chicken. The silly rooster actually makes cooing sounds as you scratch him. He weighs less than most African Greys and is one of our A sized Seramas. Love how sweet these chickens are! You can get an idea of how small he is by the glass of water next to him.
November 12, 2011 I was so hoping for a baby on 11/11/11 and no one showed. Last night, about 40 men were here for a prayer meeting at our home. We girls were tucked back in my bedroom watching Big Jake with John Wayne, and Missy was agitated. I thought it might happen. But, awoke this morning to no baby. All night long, I wake up, look at the cameras on my bedroom TV, and worry. What if the beeper system fails? What if we miss the birth and baby does not make it out of the placenta? I have to calm my racing heart and pray. Trusting God is the only way for me to calm my racing heart. But, if you come over to my barn and Missy has a bunch of different beepers snapped onto her halter, you will understand why.
My swollen, broken toe has made a new style of barn shoe for me....I am wearing slippers in the barn! And, I am a lot slower than normal. Lisa drove 6 horses today, and wants to steal Design from me. Crazy boy is such a blast to drive. He is very controlled here at home and will do a sliding stop that could compete with a reiner! Lisa checked her at sundown and said all is the same and she does not believe a baby will come tonight. This is her official due date.
The wedding is getting closer. It happens next Sat in our front yard. Maybe Missy is going to wait to have her baby on that day, so that a crowd is here to witness the birth??
It is almost 11PM, Missy is quiet and eating as usual. Her bag went from feeling like their were rocks in it to being softer. Teats pointing straight down. Tail is up and wrapped. Lisa still says she is not going tonight.
As much as I love the Shetlands, I am still amazed by the contribution that Rhotens Little Dandy made in the driving world of the smaller miniature horses. He fathered some greats. How I wish there was video of him trotting. And, to think his father, Bond Dynamo, was created by breeding half brother to half sister and the shared father was pretty dwarfy. Miniatures have come so far over the years!
November 12, 2011 No baby. We are just waiting and waiting! I did befriend one of the chickens at the barn. These chickens are amazing. They are sweet, don't bite, aren't a loud pet and are very affectionate. My daughters were laughing at me as I "claimed" that this little rooster liked me, but he follows me now, even during stall cleaning and out when I am in the arena.
November 17, 2011 All is well here, just no baby. I have seen baby moving, and know that for right now, all is fine within momma. Remember that the mare's eggs can "float" for up to 2 weeks before it implants in the uterine lining. This means that the due date can vary by quite a bit of time. We did have a fun conversation on our AZminiatures yahoo group wherein one breeder told of a mare that went 384 days and another mare who waited 372 days. Those have got to be record long for gestation times.
On the short end, one miniature breeder told of a mini named Whitenyville I Beat the Odds (owned by Bellmills in Belgium) born at 296 days with only peach fuzz, no hair and cartilage for legs. The vet told this breeder that the early foal would die, but love and determination (along with lots of hours) has grown this baby up to be 7 years old now. They had to be there every 2 hours around the clock and support her while she nursed. After 2 weeks, she was getting up on her own! As you can see, there can be a great amount of variation.
Exciting news here....we used the wee foal preg test on both Treasure and Dream. Both mares are pregnant by Rivenburghs Lets Roll SE (Beamer)!!!! I am so happy to have more Beamer babies this year. Treasure is due May 29, 2012. Dream is due 6/12/2012. Treasure has never successfully birthed a baby. Dream has had one other baby with us named Painted Suns Supreme Moon Dream.
9 PM She has a big bag tonight!!!! Sudden changes in the bag is meaningful to me and very significant.
9:53 PM Faith just got off the plane in England. She is our first miniature to go overseas. After seeing pictures of the new owner's home, we all want to go live there too!
10:44 PM I am off to bed with visions of a lil Steam Roller dancing in my head? C'mon Missy....it would be a good night to reveal who is living in you. The neighbor family is asleep in the living room and a 12 yr old girl from our church is here to see this event. There is new bedding in the stall and we are all ready. The wedding rehearsal is tomorrow evening, so tonight would be perfect. Alas, I look at the TV camera and Missy is just sleeping with her head down. There was a big change in her bag, but without getting out some milk to test with the strips, I can't be sure that tonight is the night.
November 18th, 2011 Her bag is still large like it was yesterday, but we are unable to express milk. Our neighbor family who is with us every night only to witness this event cannot be with us tomorrow night.....so, we are hoping she does not go tomorrow night.
This evening was the wedding rehearsal and dinner. I stayed home on marestare. She is acting the same; up and down fairly frequently and swishing her tail, but no big clues. Her hind end is very relaxed, her bag feels big....she could go anytime. Please pray for a small colt to carry on Steam Roller's line.
November 19th, 2011 Time for the morning update! This is actually not Beth writing this report...this is her daughter, Lisa. Missy's bag was still really big this morning, so Jessie took her for a short walk just to let her stretch her legs. When she got home, she came walking up to the house saying, "Mom?" in her "this is important" voice. Mom and I turned around and she said that she got two drops of milk out of Missy!! Anna says that she would bet a dollar that she has it tonight.
The wedding is scheduled for 4:00 this afternoon, and we are really hoping that Missy decides to hold off till after the wedding and reception. I am especially hoping she waits because I am the wedding photographer!...and I'm really excited. The lady getting married is a good friend, and she wants me to do it, even though I'm pretty amateur as far as weddings go. If you look at the horse pictures on our site, I've taken most of them, so I am more confident with horses...but not as confident with people. I am also going to do Christmas pictures for a family from our church next weekend.
Supposedly, there was some rain in the forecast, but thankfully, the day has dawned pretty clear. I ran out to the front yard and took some pictures of the wedding setup this morning. If this goes well, I may start advertising my photography. Here is our beautiful front yard. If you click on the pictures, they will blow up big for you.
| | | | |
| --- | --- | --- | --- |
| View of the setup from the roof! | This is where the bride will walk out from. | The setup with our house in the background. | Some of our roses with the setup in the background. |
Here is the yard the other day before we set up for the wedding. The horses are going to be so happy out there tomorrow!!!
The wedding is over. It was gorgeous. Perfect weather and many prayers for them. My horses don't know that the front yard is now theirs again!! They will be so happy to have it back.
Missy did give us a few drops of milk today, but not anything we can test. She is now rubbing her side, swishing the tail, biting at her side and drawing up her back legs. All of this behavior we have seen other nights. I would love to meet baby, but not tonight Missy. Tonight is the only night that our neighbor boys are not with us. They are involved in the American Heritage Festival 2011, and are not sleeping here. If she has baby tonight, they will miss it and they have slept here for the last 10 days in order to see this. It would be very sad for them to miss this.
November 22, 2011 Our home is full tonight. Missy waited to have the baby until the neighbor family could all be back with us watching. In addition to them, there are 2 more interested teens with us to watch. This would be a good night....er, morning to show us baby. We watched the movie, Buck, tonight and are all just going to bed. Missy's vulva is very elongated and her bag is bigger yet. Jess got about 5 drops of milk out, but not enough to test. We all have our jackets by our beds t run to the barn if the beepers go off. There are 2 other homes in Waddell set up the same way, ready to come if we call.
10 PM She is stomping and really, really agitated. I called a friend who wanted to watch and told her that this was probably it tonight. PLEASE PRAY for a healthy baby!
12:35 AM We are finally giving up watching for the night. She has been very agitated, but is now doing nothing, so we have given up and are going to try to catch some sleep. Hopefully, things will start moving again in a little while...maybe?
November 24, 2011 No baby yet. Still, still waiting. It is 12:42 AM so technically, it is 11/25/11. Happy Thanksgiving to all. It was a rough Thanksgiving for me....I lost my happy Pappy, named Magi, in a terrible accident. There is one HUGE hole in my heart left by a 4.5 pound dog. Papillons speak the human language and he understood me better than most people. I am still in a daze.
We have our neighbor family camped out, plus 2 more teens. Her bag is HUGE at this point.
November 25, 2011 Thank you for the calls and emails about Magi. Bad night of sleep for me and on the verge of losing it when I think how much I miss that lil guy. Still waiting to meet baby
I vaccinated for the first time with the pregnant mare rhino shot. Many breeders are very against this shot, but every vet tells me to do it. After having a few losses of babies early this season, I decided to vaccinate. The vets tell me that the controversy about it surrounds the carrier in the vaccine. Mares react to the carrier and lose their babies as a result. I was told to use Banamine for the few days surrounding the vaccine to help reduce any reaction to the carrier. We were also told to use the Calvenza EHV and not Fort Dodge's version.
We took new pictures of Rose today. This was our April 2011 baby. She still has a weanling belly, but is beginning to take shape.
November 27, 2011 We are getting the carts and horses ready for the Christmas season. We love driving the neighborhood all decorated, going Christmas caroling with our friends and going in some parades. Some of the horses in the parades this year are ones we have never taken before, so we are testing their sensitivity level. They need to handle a lot of noise and commotion. Here is a video of Beamer from today.
11:10 PM We are desperately looking for clues, because she is still not producing milk. Her bag is very large though. But, Jessie took a picture of her at 7 PM and then another at 10 PM and look at the change in her! She really relaxed and enlongated over this 3 hour period. Maybe her body is preparing to show us the baby tonight!?!
November 27, 2011 At 3:45 AM, I wake up and watch Missy in the cameras. The other mares are all standing and are very still. Missy is standing and looks like she is asleep like the other mares, but I can see a tremor go through her body every minute or so. I assumed this was Labor and logged onto facebook. My wonderful international friends are all online because our clocks are completely different and we start talking. Missy curls up her lip about 6 times. She lays down and gets up again. She never does this....typically, she lays down and naps for awhile. I watch for about an hour and half, Missy starts eating again and I give up watch.
November 28, 2011 Around 8:30 AM, I see her lifting her tail and walking around the stall. She stops and keeps her tail up like she wants to poop. Typically, our mares circle and lay down, but not Missy. It looks like she is pushing in the standing position. We make the decision to descend on her. Down to the barn we run and she is down fully pushing! Baby is out by 9:11 AM and we are thanking our Lord for a beautiful silver and white filly!
Click here for a slide show of her first few days.
Gestation was 352 days. Name ideas are rolling in!
I AM A Steam Roller Too, or I AM A Steam Roller Finale, or I AM the Last Steam Roller, or I AM Steamed about Rolling, I AM a Rock and Roller, I AM Rollers Legacy Lass, I AM a Rolling Tornado, I AM More Precious Than Silver, I AM a Silver Stroller, I AM Silver Reign, I AM Steam Rollers Legacy Lady, I AM a Roller Coaster, I AM Rolling Thunder, I AM Rollin', Rollin', Rollin', IAM Rolling to Glory, I AM a Silver Cameo, I Am a Cameo of SteamRoller
November 30, 2011 8 AM For the first time, I am dealing with a mom who is somewhat aggressive towards her foal. We are keeping a very close eye on her and I just gave her some Banamine. Baby has definitely nursed many a time, but mom is just not as accepting as normal.
December 1, 2011 Two of my favorite breeders suggested the same name.....Nancy Rivenburgh suggested I AM Roller's Legacy Lass and Wendy Buitunhuis (owner of Steam Roller) suggested I AM Steam Roller's Legacy Lass. My daughters love calling her Lassie and Lass, so it looks like we got a name! I teased my family that I was going to name her "I AM a Facebook Favorite" because she got so many 'likes' when we posted her pictures.