Foaling Journal for I AM Ranch Miniature Horses
February 2012
Click here for April 2012 Foaling journal
Click here for May 2012
2/9/12 Spring is coming......and so are some babies. First up is Justine. Every day, I feel all the bags of the pregnant mares. Tonight, there was a tad of swelling in Justine's. It is the day for her 30 day out 4 way vaccine and that means I start her journal. These journals began as notes for our dear dairy-farmer turned miniature-horse-breeder friend in Maine. I found them helpful to track mares for future years and so they continue.
Name of Mares due in 2012

Name of Stallion

Last Date Bred

Previous Gestation Length

Due Date based on Previous Gestation

Actual Date of Birth

4/7/11

Maiden

3/8/12 based on 336 day average.

3/12/12 (340 day gestation)

5/23/11

Unknown

4/23/12

4/11/12

I AM Storming the Pearly Gates!

6/4/11

Maiden

5/5/12

4/27/12

I AM the Last Roll of Thunder

6/28/11

Has had 2 unsuccessful pregnancies. Pray for this one :)

5/29/12

6/11/12
2/16/12 Some unexpected things developed today. Justine now is wearing the foaling halter and is bagging up gradually, but the surprise was when I checked Sam's bag. She is also filling up.
| | |
| --- | --- |
| Justine | Sam |
Sam is supposedly not due for a long time, so this bagging up is either a sign of placentitis or she took and became pregnant but allowed breedings long after she took. When I read up on placentitis, I did read that it can sometimes be helped by a treatment of Regumate, Banamine and an antibiotic. I remember being surprised at how early she showed her pregnancy last summer especially for a maiden. This seems to support the idea that she became pregnant earlier than we realized and continued to accept the stallion. At any rate, she is now under cameras and wearing a foaling halter. Sam is a cribber and my hubby just finished crib proofing a stall that is under cameras. There was no way I could run cameras to Sam's usual stall. We lined it with Del Mar paneling so there was nothing she could grab to crib on.
2/17/12 Sam now has had her pre-foaling vaccine too.
2/20/12 Sam's bag has shrunk back down. Very strange, but I am happy about it. On the contrary, Justine is blooming. Big bag tonight, vulva is more relaxed. We are unable to get any milk, but she is progressing nicely. It is just about time to start having our neighbors sleep here.
Last year, I started getting emails and calls from a sweet lady from Slovenia. Before I knew it, she called me "her friend" and said we had to meet. After finding out that we don't travel (can't leave home with so many animals), she decided to come to us. She did so in December, but now she is back. Wouldn't it be great if Justine foaled while she is here?!? Her dream is to teach her mini to drive, so we are teaching her some of what we know while she is with us. Today she bought a beautiful harness from Diane at theiberianconnection.com. She cooks Slovenian food for us every night and is very missed by her family. Hopefully, we will get her to the Scottsdale Arabian show!
2/22/12 Sam's bag remains non-existent.
Shaved Design today. He is such a goofball. We made a video of him running around our arena yesterday and put it on the home page of our site. He looks like such a ragamuffin that I decided to clip. Love this attitude, but sometimes, he frustrates me to death. Very testosterone driven. Some accuse me of being clipper happy....I got to clip in private because my girls and Slovenia friend went to the Scottsdale Arabian show.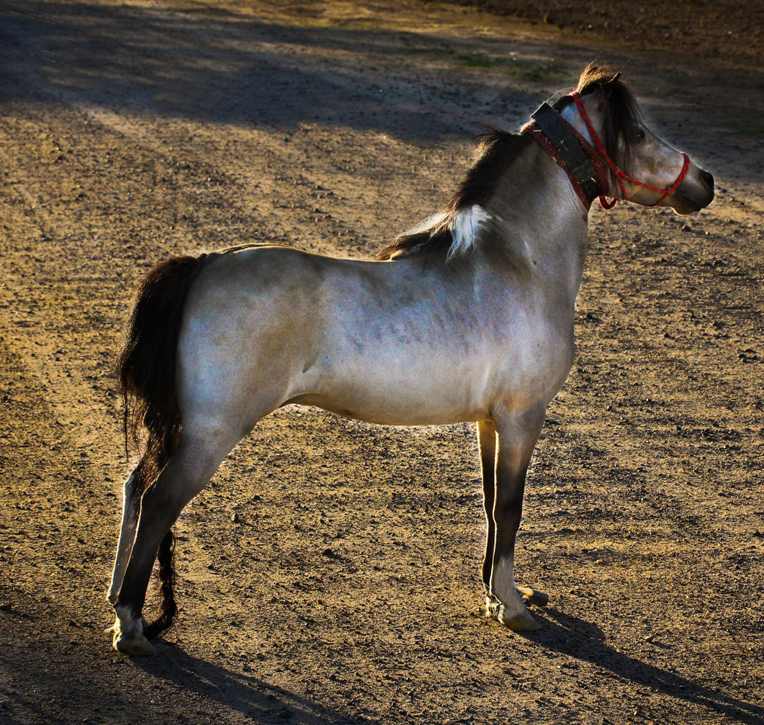 2/28/12 Our Slovenia friend left this morning. She was with us for many sweet days to learn about miniatures. She filled our home with laughter, good smells, wonderful food and we will miss her. We were supposed to teach her how to drive. Drive we did some, but we are so busy with puppies right now, that time was limited. Fortunately, our Slovenian friend loves pups, and all animals. The Lab pups are 5 weeks and 3.5 weeks.
| | |
| --- | --- |
| Nina's 5 week old pup | Goldie's 3.5 week old pup |
Justine is finally busting full! We have watched her bag fill over the last few days and her bag has gradually gotten fuller and fuller. Tonight, there were big changes. The bag went from soft to hard and very full. Her teats are finally pointing straight down and the vulva elongated. We are unable to get any milk to test, but she is a maiden. I have the camera laid out, I am sleeping with my Carhart by my side and we are praying for a good outcome. This will be our first Beamer baby!!! And, we adore our Justine, despite her ornery pregnancy moods.
Will we have a baby by morning???
2/29/12 It is just about midnight. Justine was so full tonight that her bag had a funny bulge out of it on the front side. She is at the point where I wouldn't be surprised if she had it at any moment or if she waited another week. At any rate, we are not going anywhere until it happens. Her belly is not that huge, but she is getting to that very uncomfortable looking stage. I suspect this baby will be solid red and move unbelievably. Linda Day owns 2 Beamer daughters that are solid red and trot beautifully. They can be seen under Beamer's produce.
3/1/12 The funny bulge remains....and baby remains inside. Justine was really uncomfortable today in the afternoon. Up and down, and up and down. I see all of the baby pictures on facebook, and it makes me crazy for a new one here! Dayspring Minis had 2 awesome minis and I so appreciate how Andrea, the breeder, gives all the glory and credit to our Master Creator.
3/3/12 Justine is the same.....maybe a wee bit bigger in the bag. Sam, once again, has developed a bag.
3/5/12 Justine's bag is HUGE! I was up many hours last night watching and thinking any moment, and I am doing the same thing right now at noon.
3/6/12 Her bag is even bigger....can it be so? And, her vulva is relaxing and lengthening by the hour. Our last maiden foaled during the day....maybe Justine will too??? We record all changes by photos, but one can only post so many udder and bottom pictures. Once a month, the men's prayer meeting is here at our home. About 45 men gather.....my daughters are giggling with the idea of Justine holding off and sharing the miracle of birth with them all.
10:30 PM My poor Jessie is throwing up. Justine is ready to foal and Jess loves seeing it. Besides it is often her behind the camera when it all starts. No Jess tonight. Maybe Justine will not birth tonight. She does look awfully full, but mares can stall in amazing ways. I am hoping she waits for my youngest to feel strong enough to make it to the barn. It is also a cold blustery night here in Arizona. Tomorrow night is supposed to be even colder. Yes, we are wimps, for I am talking about 39 degrees tomorrow night. Facebook is good for marestaring though. I wake up with the beepers going off in the middle of the night, Justine will be laying flat out. I can't turn the beeper off and go back to sleep, for no one will be around to turn them back on. So, I sit up and read on my touchpad. Last night, I log on and friends in England and S Africa start instant messaging me. It is great help to keep me awake.
3/7/12 Here we are still waiting. It is midnight and now March 8th. This is the day that I originally predicted as her due date. We cleaned stalls very late in the barn and while Justine seemed huge, there were no new changes. Jess is weak, but better. The beepers are on and I am off to bed.
3/8/12 Justine was miserable today. At times, it looked like she was going to lay down and have baby in the middle of the day. We were able to express a tiny amount of milk. At least, one of my daughters thinks tonight is the night....I don't know what to think anymore. Just want to record it all for next time.
| | |
| --- | --- |
| The sad thing is that Carl guessed we have another week with Justine. Another lady came by from the east valley and she also said we have a few more days. I am staying very vigilant just based on the size of her bag and knowing she is a maiden. | |
3/11/12 WE ARE HAVING A BABY TONIGHT!!! Maybe.... but I am 99% sure. We were able to express .4 ml of milk and all 4 squares tested as a yes. This test has been very reliable for us. I think it has been wrong 2 times in the past. I can't wait, can't wait, can't wait to meet baby!!!!
3/12/12 4:30 AM That 1% won. No baby. In fact, Justine could not have been quieter last night. Absolutely nothing.
Ah ha, it all started at 8AM!!! The milk strips were right again! Text book delivery of a bouncing baby boy who is as red as Justine. He looks like a little Saddlebred with legs a mile long and a neck so upright that he looks rocked back already. We are so thankful to our Lord for his safe delivery into our barn!
Please meet I AM Ranch ?? and we will lovingly call him "Jack"
Click here to see the birth of Jack and click here to see him at one week old!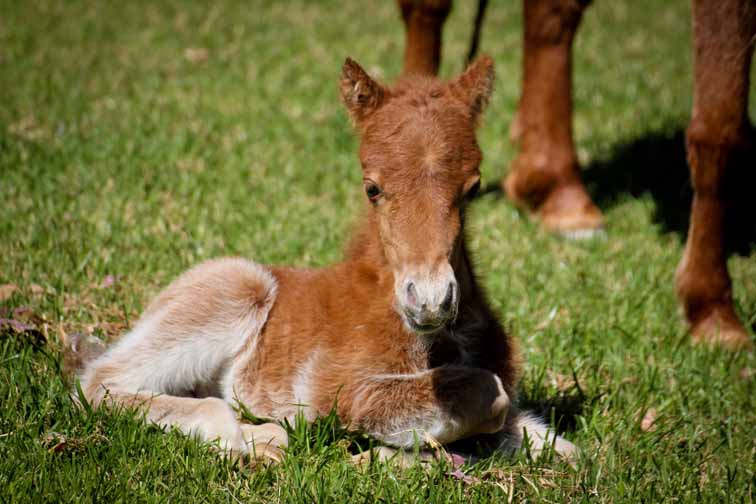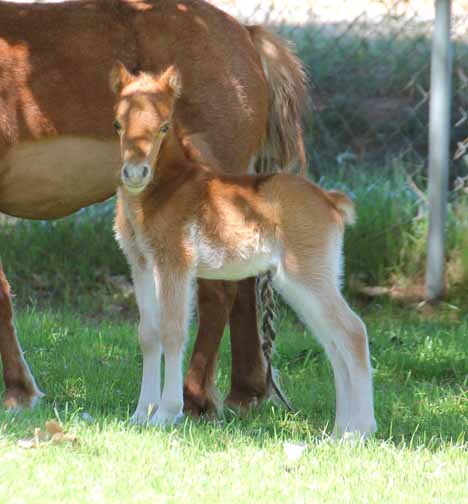 Home Articles For Sale Mares Stallions Our Dogs Seramas Contact us