Foaling Journal for I AM Ranch Miniature Horses
April 2012
Click here to read journal for Feb, 2012
Click here for May 2012
Name of Mares due in 2012

Name of Stallion

Last Date Bred

Previous Gestation Length

Due Date based 336 average

Actual Date of Birth

5/23/11

325 days for this baby

4/11/12

4/11/12

6/4/11

Maiden

5/5/12

4/27/12

328 day gestation

6/28/11

Has had 2 unsuccessful pregnancies. Pray for this one

5/29/12

6/11/12

349 day gestation
3/29/12 Pearl was supposed to be our next mare due, but Sam is the one who keeps us on our toes. She is a maiden and typically maidens do not get bags until the very end, but Sam has filled up and gone down a few times already over the past month. This can be a sign of placentitis, so I have her on Regumate, SMZs and Banamine just in case that is what is causing this. There are 2 other concerns for Sam. She is a maiden, and a taller mare. Again, you would not think she would show her pregnancy until later on, but she started to show a belly about 1 month after conception. Even my seasoned broodmares do not show that quickly. The second concern is that her opening is tiny....it almost looks like she had a caslicks done on her, but I know for certain that she did not. I had a Thoroughbred mare once who did have this procedure done, and this is different.
Sam is giving us milk to test. The 4 squares all changed, but not in the minute time allotment. It takes more like 2.5 minutes to change. We did have one mare who birthed when all 4 changed, but not in the minute deadline and that was Dream in 2009.
3/30/12 Sam is streaming out milk, and it looks like honey. Jess is testing it now at noon!
3/31/12 Sam is at 302 days. Her milk has become whiter in color, but the size of her bag continues to fluctuate on us. During the day, it changes, but her strips are not testing as ready. Tonight, as she is laying down, I can see her labored breathing. Her tail is twitching back and forth like a cat's. As you can see, she is waxing up and her teats are pointing straight down. All these are signs of birth, but the milk strips are saying not yet. I just keep hoping she holds off a few more days and this baby can mature a bit more inside of her.
Pearl is starting to bag too, and this is normal for a proven mare due in about 3 weeks. I have vaccinated her and we have her under cameras too. Here is her bag. She can fill a lot more. The baby has dropped though, but again, this mare has only been a broodmare and is not in shape from being driven.
| | |
| --- | --- |
| Pearl on 3/31 | Pearl on 4/2 |
Treasure is super exciting in that her baby is still growing. She lost previous babies at 8-9 months of gestation and we are passed that mark. She is about 9.33 months gestation today! Lisa says she prays for baby every time she handles Treasure. Her baby should be very special as far as movement.
I think I better get some sleep while Sam is not stretched out flat. I don't think we will have a baby tonight.
4/2/12 Treasure now is bagging up. She is only at 279 days. Sam is at 304 days and really bagged. Her milk strips are still saying she is not ready. Pearl too, continues to progress. I will add a new picture of Pearl from tonight next to the one from 3 days ago up above.
4/4/12 Treasure's bag is backed down in size and Pearl is progressing like she should. Sam looks like she swallowed an exercise ball and is very ready. Every night, we are able to express milk to test her, but tonight, there was no milk. Jessie went back down to the barn later and worked and worked at getting milk She got a very tiny sample that she mixed with distilled water. Almost all 4 squares changed. Almost.....I didn't watch Jess test, and I keep wondering if she did it right. If she did, I would expect a baby within 2 days. I will test in the AM and know more then.
4/10/12 Both Treasure and Sam have quieted down and I am not worried about imminent foaling from them. So thankful that they did not slip their foals.
Pearl's bag is just huge. Her teats are no longer pointing in as much.We are able to express milk and test it nightly. Three of the 4 squares are changing on the milk strips. To read about how we use these, click here.

I am guessing 3 more days, everyone else is refusing to guess how long till we meet baby. We do have a name for this one! Since it is a Pearl and Storm baby, she will be named "I AM Storming the Pearly Gates."

I say "she" but this has been a colt year from what I hear..... Alliance has had 13 colts and Erica's Tiny Trotters is at 6 colts and 1 filly!
4/10/12 10 PM She progressed far today! Tonight almost all 4 squares changed, her color of milk changed and the volume of milk changed. Lisa came back up from the barn calling her a cow. Since I first saw her, I have called her my pet Manatee due to her being overweight, but cow is more fitting at this point. She is very restless. I am upping my guess to her birthing within the next 10 hours. I spent the day reviewing our dystocia notes and especially the part about hip lock. Please pray for Pearl. Only by God's special grace do any of these babies make it safely into the world. Many changes have occurred.... Look at how her "cleavage" has disappeared in the picture we took tonight at 10 PM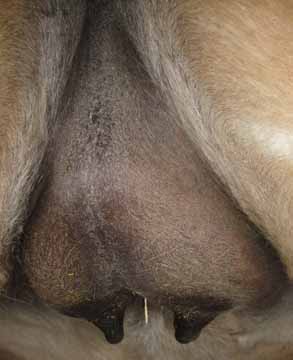 4/11/12 It is 7:30 AM and no baby yet. She is still a'coming though. Her milk strips are changing even faster. Lisa and I stayed up most the night, and now will sleep while others are awake. Maybe she wanted to wait until I empty out the barn and turn everyone else out for the morning.
11AM I wake up and find the rest of my family in the living room doing school work. Lisa stayed sleeping in my room under the cameras. I decide to move Sam out of the barn to give Pearl some privacy. About 20 minutes after I took Sam out, Pearl laid down and started pushing. The only way we knew was due to the equipage foaling system. As the beepers sounded off, we all sprinted to the barn to witness another miracle by our heavenly Father. Click here to see the birth of I AM Storming the Pearly Gates.
4/15/12 We had an AMHA Miniature show in Arizona yesterday. Jess wanted to show Cameo so off we went....but with Sam in the trailer. I didn't want to leave her at home just in case she decided to show us baby. I kept her inside the trailer and God gave us cool weather. She supervised us harnessing, and was very quiet.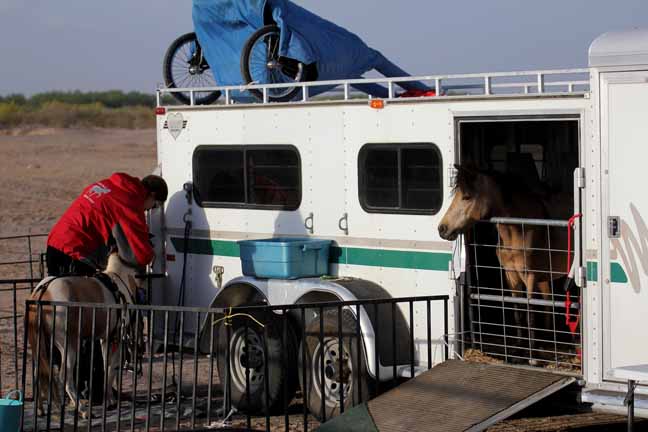 Tonight she is agitated enough that I called our mare staring neighbors. They are not sleeping here yet. Sam's bag grew a lot today. She has been up and down the last hour about 4 times and rolled a lot. She is yawning. No milk to test.
4/17/12 Six days old and what a doll. Love her legs and like the trot that I see!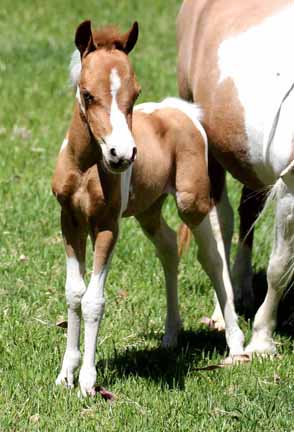 Sam has once again waxed and really filled up. She did this back on March 31. We have been proactively treating her for Placentitis. Sam is very agitated though and rolling often. Please Lord, put that baby in the right position. This time, I would like a small colt who moves like his daddy, Steam Roller.
4/18/12 Sam quieted down last night and rested. Then, today there was not much rolling or distress. Tonight, though, she has been fairly agitated again. We are unable to get milk from her which is fairly normal with maidens. Her vulva has lengthened and we are waiting.
4/22/12 I put our cameras online because I am losing my bedroom to my parents for the next few days. My foaling TVs are in my bedroom. So, if I Ustream them, I can see them on any computer. Sam still is not giving us milk, and I don't think her vulva is relaxed enough to foal, but she is very big, very restless and even having problems coordinating her back end at times.
If you see Sam going into labor, please feel free to call me at 623 694 9431
4/23/12 Jess again was throwing up last night. I am glad that Sam held off. Jess has recovered this evening and was able to get a bit of milk. She tested it and all 4 squares changed.....this means we should have a baby within 24 hours. Now, we rearrange the house once again.
Last night turned into a disaster. I had fussed with the cameras and computer to get our barn online. That way, my visiting family could have my bedroom and I could sleep anywhere as long as I had a computer to see the barn happenings. This all worked well until about 1 AM.....then the feed got disconnected. I didn't want to wake up my visitors, so Lisa and I got into our truck, parked next to the stall, took our foaling beepers and camped out in the back. Needed caffeine today, but am still going strong. Sleep was minimal due to the barking Pyrenees, my dear Chico crowing his head off and horses banging feeders. But, the sky was magnificent and the weather was perfect (70 degrees).
Progression pics
| | |
| --- | --- |
| 4/21 | 4/23 |
4/24/12 I still think we will meet baby VERY SOON!!!
4/27/12 This birth was scary for us. Typically, the milk strips are very, very reliable. This time though, they told us that we were going to have a baby for 3 nights in a row....and there was no baby. The only other time this happened was in 2008 when we had a tough dystocia. So, that made us apprehensive. Then, throughout the latter part of this pregnancy, Sam's bag had filled and gone down multiple times. She was huge and her vulva opening was unusually small. It looked like a caslicks had been done, but we know that was not the case. Finally, we saw lots of movement from baby while in Sam's belly as late as 2 nights before the birth. The colt did not seem to be in the right position for leaving his abode. Typically, there is not a lot of movement as the foal lines up inside of mom.
The foaling beeper saved the day again when it sounded off at 4:30 AM. We ran to the barn to find Sam just starting to push. One leg was already out as I wrapped the tail. But, then all progress stopped. There was no progress after about 3-5 minutes of pushing. The longer a mare pushes, the harder the baby gets pushed up against the pelvic wall and the tighter the work space becomes. Thus, Lisa dove in to try and find that other hoof. She found the nose and eye, but it took her a long time to find the hoof. Thankfully, it was our Lord's will to deliver this baby safely into our barn and I am now watching him on my barn camera with a grateful heart! He is very small, which is just what we wanted. We are hoping he moves like his daddy, Whitneyvilles Steam Roller. We lost Steam Roller last year to colic and this colt is the last of his line..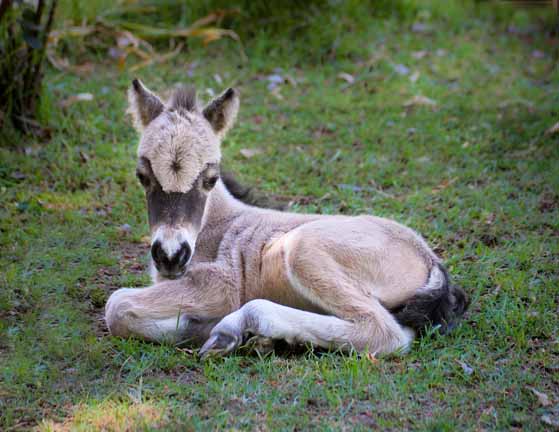 "I AM the Last Roll of Thunder"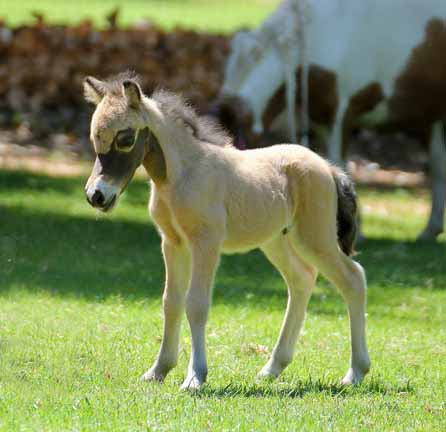 Click here to see this colt on his first day of life!
4/29/12 Sam had a bout of colic after foaling, but she has settled in now and is a great momma! All seem healthy. Sam is on SMZs due to how intrusive the foaling was.
We had 2 darling Papillons birthed tonight. The father is a stud that I am wild over. You can click here to see him. But, marestaring is on hold till later in May when we hope to meet our second Beamer baby here. Treasure is due the very end of May.
Home Articles For Sale Mares Stallions Our Dogs Seramas Contact us