Name of Mares due in 2012

Name of Stallion

Last Date Bred

Previous Gestation Length

Due Date based on Previous Gestation

Actual Date of Birth

4/7/11

Maiden

3/8/12 based on 336 day average.

3/12/12

5/23/11

Unknown

4/23/12

4/11/12

I AM Stormin the Pearly Gates

6/4/11

Maiden

5/5/12

4/27/12

I AM The Last Roll of Thunder

6/28/11

Has had 2 unsuccessful pregnancies. Pray for this one :)

5/29/12

6/11/12

"Ruger"
5/7/12 Treasure is at day 314!!! This is so cool for she is a high risk mare having lost 2 babies at 8-9 months gestation. She is also one of the best movers I know and this baby should be incredible between her and Beamer. She has a small bag, but nothing that worries me yet. I have her in the foaling stalls, no beeper on yet, and am not even turning on the cameras. But, I do feel her bag twice a day. We had 2 Nubian goats born yesterday, and they are keeping us entertained while we wait on Treasure. Today we get a squeeze of Alfalfa and sweet boys from our church will help us move it all into the barn.
I want to keep our babies from this year, so I have listed more horses for sale. Rose, Lily and DeeDee are all for sale. We are also breeding mares for next year. Beamer gets Dancer, Justine, Rhythm, Candy and Lily. Design gets McCarthys Cameo. Beamer will also probably get Pearl and Design would be a good match for Sam.
5/8/12 Treasure is just beginning to drop. I think she will get the foaling halter on tonight. Took a new photo of Jack that can be seen on his page.
5/13/12 The foaling halter is back on and she is getting increasingly agitated. For the last 3 nights, she has swished her tail, bit at her sides and very loose in the back end. Her bag still is not very full and we are unable to get any milk yet. Tonight, she threw herself down, rolled and once standing, her belly looked like she was contracting or having big hiccups. Then, she was breathing very heavy for a while, but is quiet again now at 10:30 PM.

Lisa has driven DeeDee the last 2 nights. We are trying to get her consistent in gait, headset, etc....and to make her safe for the neighborhood. She is doing very well in the cart.
5/14/12 We are watching her closely, but I do not anticipate a baby yet. Her vulva is very loose and long, she has dropped, she is agitated, but her bag just does not seem ready. I have had one mare whose bag fooled me, so we are watching anyway. Dream left us this last year and she was pregnant to Beamer. She should foal tonight, so please pray for her and Rosha. Her last baby came out easily, and I am so hoping this is the case again.
5/15/12 One of our favorite new friends that we made at the Touch of Class show this year was Elana. She talked our ear off and we looked forward to her visits to our barn. Fortunately for us, their family arrived at Touch with unclipped horses, so while mom and dad shaved, we got to know Elana.

They have found that her horses are a great way for her to learn, and her heart is very invested in them. It takes a special horse to be her horse, and Tinker Bell is one of them. This past week, Tinker accidentally binged in the grain bin and is now needing prayers. The family has been doing everything they can to pull her through, but Tink is in grave danger. Please pray for her, and for Elana and the Coleman family.
We just found out that Tink's kidneys failed her and they had to put her down. Prayers for Tinker Bell, Elana and the Colemans.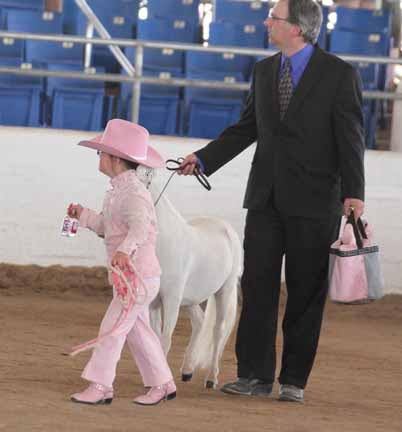 5/30/12 Very relaxed in the hind end, bag is growing, but no milk to test. Teats are still pointing in, so I don't think she is ready yet.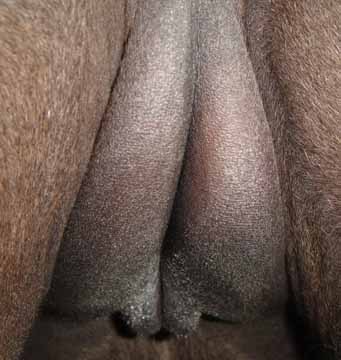 5/31/12 Crazy days here as we fought some unknown virus in our barn. First we noticed Candy off of her feed. I thought she was colicky, but there was a high fever. Colic does not typically have a fever. The temperatures here in AZ are soaring (tomorrow they are saying 113) and a fever is not to be treated lightly. Miniatures can have a rough time using Banamine, for many develop ulcers if it is used too much. I give Zantac and Aloe Vera juice when I give Banamine in attempts to protect the stomach lining. But, instead of Banamine, the garden hose and cool water was our life saver. Along with many prayers going up to our Lord. After about 1.5 weeks and 3 horses catching it, we may be done with it. No one new in the barn is showing symptoms. None of our new babies have showed any signs of it and for that, I am very grateful.
Treasure has been uneventful. She has been very agitated and loose in the hind end, but her bag has not grown. Until yesterday!!! We saw a change!!!! Treasure has been a challenge due to her losing 2 babies in the past at about 8-9 months. Thus, we have had her on Thyroid, Cinnamon and Regumate. We have also used SMZs and Banamine when she seems like she is bagging up too early and there is a possibility of placentitis. Placentitis just means an infection of the placenta and it does not support the growing baby and thus, the baby is lost. Typically, this happens at about month 8 or 9 and tends to be repeated.
Today we got our first drops of milk. I will try to keep the ustream up and live at http://www.ustream.tv/channel/10768610 It is fairly dark on my computer at night, but not as bad on my home TV screen. Most of the day, the misters are on, so don't be alarmed...it is not smoke, just mist.
We took new pictures of this foal's daddy, our Beamer. You can see them at this link.
6/3/12 More big changes in the bag tonight. For the first time with Treasure, we have our neighbors sleeping here to witness the event. We did not get enough milk to accurately test her calcium levels. Please pray for a healthy baby and a healthy Treasure.
| | |
| --- | --- |
| 6/2/12 | 6/3/12 |
6/5/12 Psalm 112:7 " He shall not be afraid of evil tidings: his heart is fixed, trusting in the Lord."
Treasure's bag is full...so full that bulges out behind her legs. She holds her tail up and out, we saw a loose poop, and she could not look more ready.....but, we still can't promise that tonight is the night. I could do so if we could get some milk to test, but there just isn't any. The Ronsicks are here and we are ready to meet baby!
6/6/12 No baby yet....Rough night as far as sleep. I am on edge all night long in anticipation. Lisa is on an air mattress on my floor below the foaling cameras. Jess made the below movie! Such a good job!!!
6/8/12 Many times, the bag of a mare has "ridges" in it. You try to get milk and you feel lumps in the bag or ridges. Treasure's bag has been very big, but has had these ridges in it. They are finally gone. She is at 346 days today and I really want to meet baby. Again, I don't worry about a "late mare." I always say that a mare has a due month and not a due date. I am thankful that Treasure's baby has stayed inside. My husband keeps thanking God for that and saying< "if we may be so bold to ask for a black filly too??" The heat is slowly coming back into Arizona.
6/11/12 A silver colt arrived just before midnight!! We are thankful and can now rest easy. I will get the video of the birth up soon, but all went well. The best part was when her water broke with such force that it showered 2 teens, and made us all exclaim!
Our afternoon was a blast with Arizona style surfing!!!
6/12/12 All seems very well. Treasure is a good, good mom. You can tell that she is sensitive to the nursing, but is overall handling it well. We are so thankful for this newblack colt with the most awesome of heads. I did the unheard of and napped today for a very long time!
Click here to see the birth of this colt.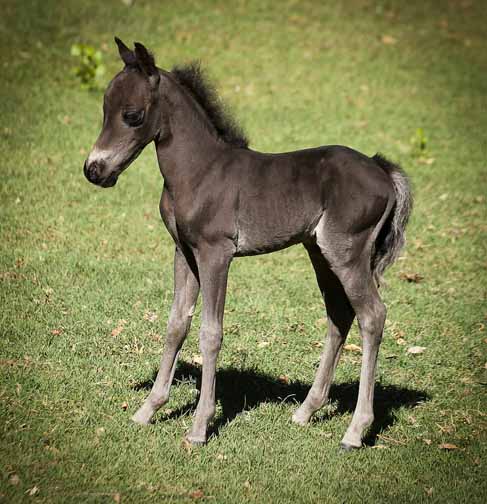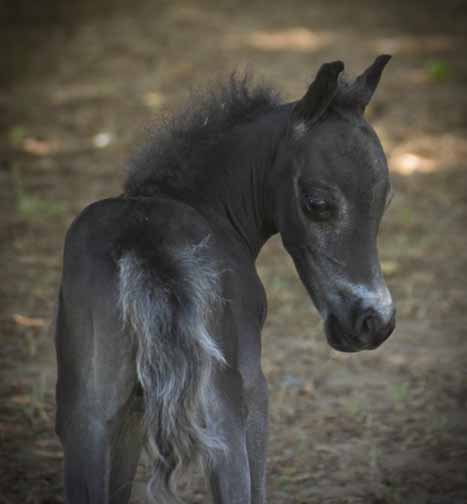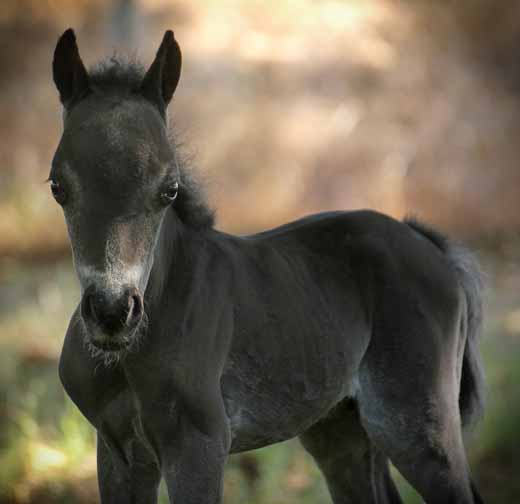 6/16/12 On the 14th, I sent out a frantic plea for prayer for this exotic looking colt. I thought we were dealing with a ruptured bladder. If you google it or talk to vets about it, it is a condition that occurs mostly in colts and is caused by pressure on a full bladder during the birth process. Due to pressure, a small tear develops. The colt is born acting very normal, but if there is a tear, a bit of urine leaks out each time he pees into the abdominal cavity. This causes irritation to the lining of the cavity and he starts to dribble urine. His potassium levels would go up and he would act colicky. Depending on the size of the tear, symptoms show up anywhere from day one to day three. He was trying to pee again and again and had only a dribble. His attempts were every 3 minutes or so, and I was sure we had a ruptured bladder.
My church family and my facebook friends responded in a big way. So many were praying as we packed him up for surgery in Scottsdale. We arrived at Chapparal and wonderful Dr. Maty drew blood. Imagine my surprise when his potassium levels were just fine. Then she ultrasounded him to see if we could find pockets of urine in his abdomen. There was none!! We were looking at a $3000 surgery, and recovery in our AZ heat accompanied by the problem of flies in the barn on a wound. But, our awesome Lord had mercy on me and on this colt. Dr. Maty said she could not justify operating with the results of the blood work and ultrasounds so home we came.
Would you believe in 104 degree weather that we get a flat on the way home! My daughters kept super great attitudes while I fell apart, but God is good. We were in the Middle of Nowhere, really!, and in this hot un-traveled desert, He provided an overpass for us to pull under. Changing the tire in the AZ sun would've been tough on us and I would've been stressing more due to the horses in the trailer, but it was actually pleasant in the shade. Tire changed, and we are home. So grateful for the shade, and for a spare with air. Look at the open desert near us....no shade for miles and miles other than where we stopped!!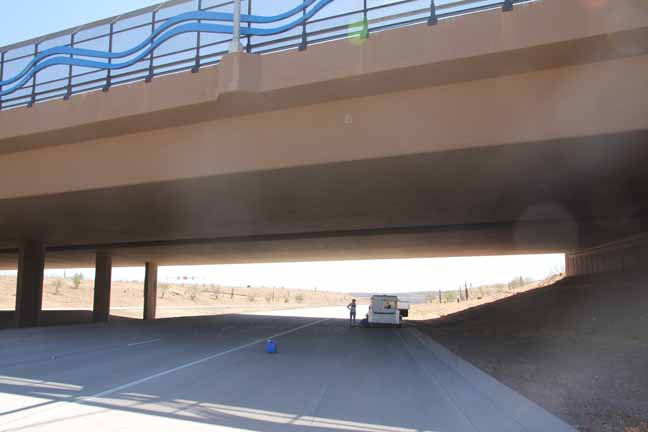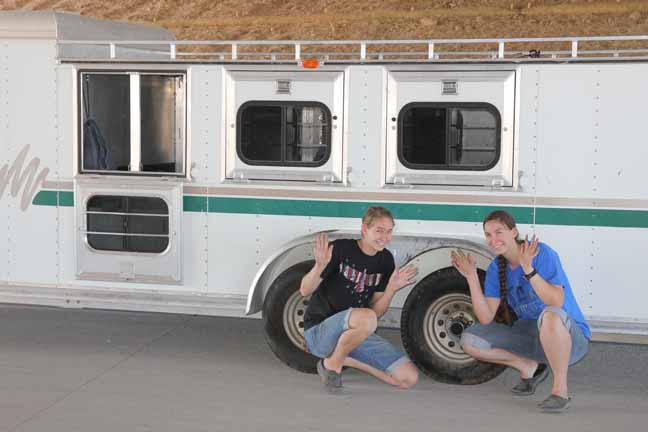 Our spring foaling season is ended. My hubby is glad to have me back sleeping at normal times. Next baby due?? November of 2012 we will be looking for a phenomenol mover from Rivenburghs Let's Roll SE and Vermilyea Farms Dandys Dancing Flame
This birth will come after the November election. Our country is on the fence of collapse. If Obama is reelected, America is ruined.
2 Chronicles 7:14 If my people, which are called by my name, shall humble themselves, and pray, and seek my face, and turn from their wicked ways: then will I hear from heaven, and will forgive their sin, and will heal their land.
Home Articles For Sale Mares Stallions Our Dogs Seramas Contact us