Home

Articles For Sale Mares Stallions Our Dogs Contact us
Reference Miniature Sires
Historical Miniature Horse Dams found in our lines
Flying W Farms Little Blue Boy
Gold Melody Boy, "Modern Day Gold Rush"
Grosshill Dandys Special Edition
Martin Boozers Daring Difference
Flabys Supreme 30.5"

50% Arenosa

* 2008 World Champion Country Pleasure Driving
* 1993 National Champion Open Single Pleasure Driving 32" & Under
* 1993 National Best All Around Horse
* 1993 National Reserve Champion Senior Stallion 32" & Under
* 1993 National Reserve Champion Liberty
* 1991 AMHA Top Ten Honor Roll 2 Year Old Stallion
* 1991 Overall High Point 2 Year Old Stallion, Northwest Miniature Horse Club
* 1990 National Top Ten Yearling Colt
* Sire of many National Champions, Reserve National Champions, and National Top 10's
Boones Little Andy, 30.25"
Boones Little Andy is found in our horses named Woodland Acre Bi Dandys Fire Design, I AM Designs Double Dandy
This remarkable stallion has sired 2 World Champion Grand Halter Horses!! He sired Deiles Little Kelly (National Grand Champion Junior Mare), Walden Hill Unforgettable (AMHA National Mare and Reserve Nat'l Champion Producer), Deiles Lucky Stream (Reserve Nat'l Champions Senior Mare and Reserve Nat'l Champion Producer), Deiles Girl of Excellence (National and Reserve Nat'l Champion in Produce of Dam and multiple Nat'l Champion producer)...and the list goes on. I guess you can see how he sired many award winning mares. Boones Little Andy originally was standing at Lucky Four Farms, but is now owned by Wall Street Miniatures.
Flying W Farms Charro Of Arenosa
He is in the bloodlines of our Rivenburghs Lets Roll SE
Thus far, he has sired 27 foals that are registered with the AMHA. Several of his Get have become National Champions and Reserve National Champions. Despite the Flying W Farm prefix, "Charro" was a 100% Arenosa stallion bred by the late Audrey Barrett. He is the producer of 2 AMHA National Champion Titles and 3 National Reserve Titles.

AMHA National Champion Sr. Stallion 30-34"

1986 National Champion for Gentleman's Single Pleasure Driving
1986 National Champion for Open Single Pleasure Driving
1986 National Champion for Senior Stallions Over 32 inches to 34 inches
1987 National Champion for Youth Roadster
1987 National Champion for Ladies Roadster
Kewpies El Monterry of Arenosa
| | |
| --- | --- |
| This gorgeous ASPC/AMHR stallion was never defeated in Model or In Hand. He is described on the Arenosa website as "nothing short of MAGNIFICENT." He is the desire of the AMHR horses in today's industry! | |
Rowdy

34"

Click on his name above to go to an article describing his achievements. Rowdy, with his Arenosa-looking head and neck, is a lead stallion in the Miniature Horse World. So much so, they call him "immortal." He was sired by Kewpie's Sun who is out of the famous Arenosa horse, Kewpie Doll's Oracle. He has sired many AMHA champions. Even though you are hearing the word, "Arenosa" in his background, Rowdy stands alone in his own right!

Rowdy comes from pure American Shetland bloodlines; nevertheless, his get are known as refined and leggy. He looked like a miniature Thoroughbred. His blood has run through the Nat'l and/or Nat'l Reserve Champions every year since 1986. In our horses, Rowdy is in the bloodlines of Ultra Mycall Jacksum, Glory and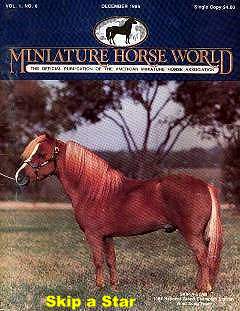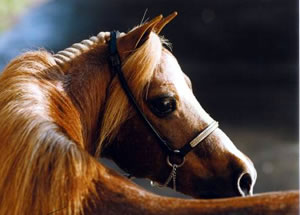 Roan Ranger
30" Red Roan
Fathered by Gold Melody Boy, this foundation stallion has sired many a National Champion. Two of his sons that took Grand Champions are: the 1985 National Grand Champion Senior Stallion, Skip a Star, and 1986 Reserve National Grand Champion Senior Stallion, Johnston's Starlight Ranger. Other National Champion horses by him are: NFC'S Sugar Boy, Cloverdowns Ranger Blue (Driving Champion!). He has also sired National Champion producers.

Roan Ranger is also found in our stallion, Short Storys Painted Sun. Roan Ranger is also found in our horses: La Vista Justine and Little Kings Dream Doll
Bond Showboy, 28.5"
Bond Showboyis in our horses named Rivenburghs Let's Roll SE, Woodland Acre Bi Dandys Fire Design, Lazy Rs Rhythms Angel Eyes, Lazy Rs Rhythms Classic Cameo, I AM Designs Double Dandy, Desert Shadows Moon Warrior, Painted Suns Supreme Moon Dream, I AM Warriors Silver Flame, Vermilyea Farms Dandys Dancing Flame
Bond Showboy fathered many a champion. Ashby's Kid Dy No Mite, Bond Atoy4U C, Bond Snippet and Bond Peppy Power were jus some of his well known colts.

Bond Snippet

Bond Atoy4U C is a National Grand Champion Senior Stallion and National Grand Champion sire
Bond Sir Galahad, 27.5"
The Sire of Many a Champion!! Bond Boozer, Bond Apollo, Bond Chauncy, Bond Coppertone, Bond Strut Us Stuff, Bond Galahad Legacy and Bond Cheerio.

This stallion is a foundation horse found in many pedigrees. At age 26, blind and old, he was still so sought after that he sold for $7000 at a 1992 sale. This sale occurred after Mr. Bond's death when his herd was dispersed via a public auction. Prior to Mr. Bond's death, Bond Sir Galahad always was found in the front yard pasture of his home. His new owners, Bob and Janet Lee of Hunt House Farms had to put him down in 1997.

Bond Sir Galahad bred Bond Bambi many times, and together they produced 10 World Grand Champion, 5 Reserve World Grand Champion, 27 Worldl Champions, and 26 Reserve World Champions.
Little Kings Santana Supreme
| | | |
| --- | --- | --- |
| | He has produced 4 National Champions including a National Grand Champion, a National Champion and 2 Reserve National Champions. His daughters are prized for producing National Champions as well as having refinement, long clean necks and beautiful heads. | |
National & Reserve National Champion; & National Grand Champion Producer.

This gorgeous, older son of Boones Little Buckeroo was both sired by a National Champion and he went on to sire a National Champion named Ima Boones Little Buckeroo Too.
Sids Rebel, 31"
Sids Rebel has produced numerous AMHA National Champions and Top Ten Winners, as well as, taking the AMHA National Reserve Champion Get of Sire award in 1997, 1999 and 2002. Sid's Rebel has also been leading the nation since 1998 as the top sire in the AMHA National Futurity based on total dollars awarded to his get. In the Lucky Four Sale Catalog he carries the following reference notation:
We are very proud to be the home of the sensational sire of top winning show horses, SID'S REBEL. Rebel has the unique ability to consistently sire outstanding individuals of ultra type and refinement in a variety of colors. His offspring are consistently winning in show rings throughout the country. He is the sire of many National Futurity Champions, National Champions and Top Ten Winners, most of which are Supreme Halter Horses. Rebel himself is Reserve National Champion, Get of Sire.
Dippers Duffy, 29"

Boones Little Apache

Starlights Little Dipper, 29.75, Chestnut

Dam also to Wittmaacks Freckles

Sids April Fool

31" Red Roan

Boones Little Apache

Johnstons Tina Star
| | | |
| --- | --- | --- |
| | This tiny stallion sold for $25,000 in 1985 to the Erwins of NFC Farms where he stood among greats such as Hemlock Brooks Egyptian King and Rowdy! | |
Little Kings Little Bucker, 29.5"
1990 AMHA National Reserve Champion Senior Stallion

1993 Nat'l Top Ten Single Pleasure Driving

AMHA Reserve National Champion in Ladies Roadster

'89, '90, '91, '92, '93 National Top Ten Liberty

Read more about him by going to the Sparkle Plenty Ranch website. There are driving pictures of him on there too!
Bond Peppy Power, 30"
Deceased. Bond Peppy Power is the sire of 8

National Titles, which include 2 National Champion and 6 National Reserve

Championships

.

Thus, he has become recognized as a prominent broodmare sire, who's daughters and granddaughters have gone on to become top producers of many Nationals Champions, Reserve Champions and National Top Ten winners in Halter and Driving.
Love Me Tender
Sire of Multiple Grand Champion Horses
Sire: Heermanns Dufus

Dam: Peppers Black Magic (from Chianti lines)
Boones Little Prince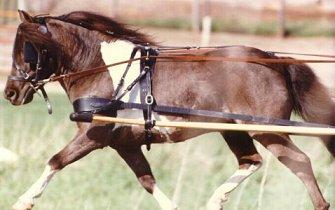 Stiehl's Apache Splash, 31.75"
| | |
| --- | --- |
| | AMHA National Top Ten Halter Stallion. Producer of AMHA & AMHR Multi-National Top Ten Halter horses. |
Ayers Mini Red Man, 28.5"
This foundation stallion is also found in our mother mare named "Turbalina" and in "Morning."

He was the 51st horse registered with the AMHA and sired 22 foals. He appears in the pedigree of a great many champions. He was registered with AMHR as Freemans Red Man. He is said to be the son of Bramamans Peppermint and out of a mare named Limpy. He is also said to be a full brother to Ramundo and Stout's Mister Pride. You will see Ramundo in this mare's top side.

Ayers Mini Man has sired some of the best conformationally correct. When the International Miniature Horse Registry transferred over to the AMHA, he was part of their merger. He has only 22 foals registered to him, the last being in 1984.

Read a fun story about Stouts Mister Pride, Ayers Mini Red Man and Ramundo by clicking here.
Bond Jocko, 27"
| | |
| --- | --- |
| | BOND JOCKO is a Producer of National Champions. He sired Bond Dynamo and was a son of Bond Tiny Tim. |
Freemans Star
Unknown x Unknown
30.00" 1965 Red Roan Stallion
AMHA R 00058P & AMHR 58A
National Top 5 Get of Sire and he Sired a 2 time National Reserve Champion. He is the Grand Sire of Flight of Fancys Great Expectations who was a Nat'l Reserve Champion Single Pleasure Driving Horse.
1986
AMHA National Top 6 Get of Sire
Sire of many National and futurity winning horses. Owner, Toni Reece, calls him the best producing look-alike son of Flying W Farms Little Blue Boy.

He is in our bloodlines in CandylandsDandyRollerOfWhitneyville, Ultra Mycall Jacksum, Painted Suns You Gotta Have Faith, Painted Suns Cinderella, Painted Suns Once in a Blue Moon, Painted Suns Country Boy.
Brewers Orion Pride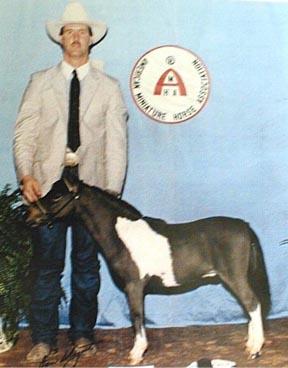 Bond Tiny Tim
To my eye, this little mini has dwarf characteristics....but that did not stop him from producing some of the greatest of our foundation stallions that are presently winning today. Bond Dynamo was produced by breeding a Bond Tiny Tim son to a Bond Tiny Tim daughter. Bond Dynamo has had an incredible impact on the driving lines. His best known son was Rhotens Little Dandy, who is one of my all time favorites. Click here to read about breeding closely related miniatures. Click here to read about Rhotens Little Dandy.

Bond Tiny Tim stood 19" and was the smallest horse in the AMHA studbook during his time. Foaled in 1970, he was a producing stallion until 1984. In addition to Bond Dynamo, he produced Bone Miss Rie, who was the Reserve National Grand Champion mare in 1984.